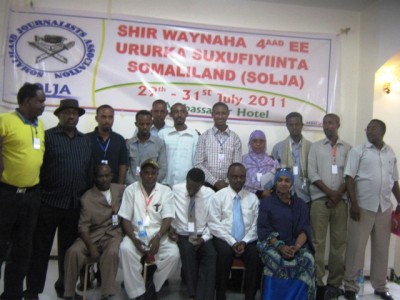 SOLJA Secures The Release of Two Journalist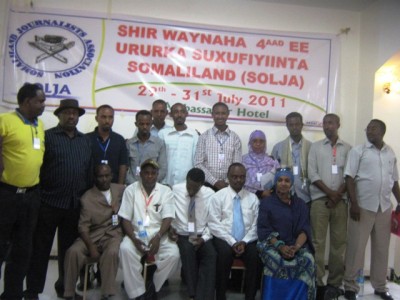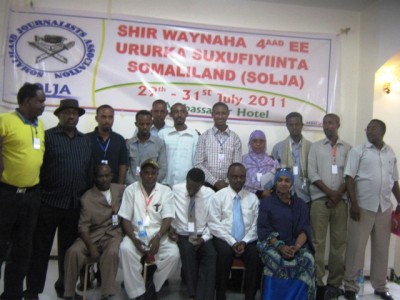 The Somaliland Journalist Association (SOLJA) has secured the release of two Journalists who were detained in the town of Las'anod last week for charges of propagating false information against the state on the clashes which occurred in Sool and Buhoodle, the charges which amount to sedition.
The journalists mr Abdisaman Isse Mohamud (Keyse), who is a reporter for Universal TV was arrested, while visiting his colleague who was in custody for similar charges, Mr Ahmed Ali Farah a reporter with Somali Royal TV.
According to SOLJA Secretary General Mohamed Rashid Muhumed Farah, the release of the journalists came after SOLJA asked the the Minister of Public affairs and Transport, Hon Ahmed Abdi Habsade to intervene in order to secure the unconditional release of the two journalists in custody.
The two journalists were arrested last week when the local authorities of Sool accused them of being propagating false information that the forces of the newly established regional state of Khatumo scaled war
against the Somaliland national forces in the region. The two journalists had recently covered a conference in the town of Taleh that culminated in the announcement of a new independent region.
Somaliland Journalist Association is welcoming the government's release of the two journalists" Said Mohamed Rashid Muhumed Farah, Mr. Mohamed went on to say we are also thanking the Minister of Public Affairs and Transport Ahmed Abdi Habsade for accepting our request for his intervention in facilitating the release of the two journalists without condition, as well as the Sool governor who accepted the minister's intervention by releasing the two journalist.