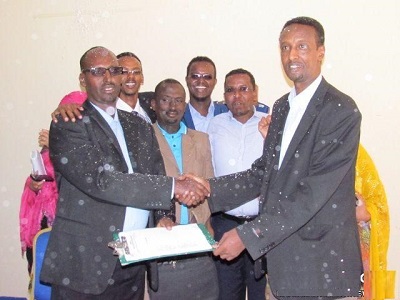 Change of Guard at SOLJA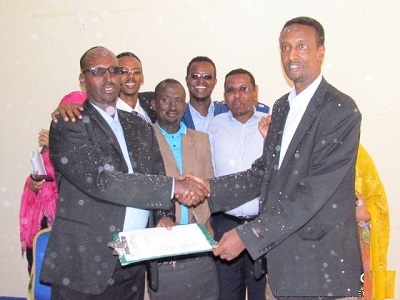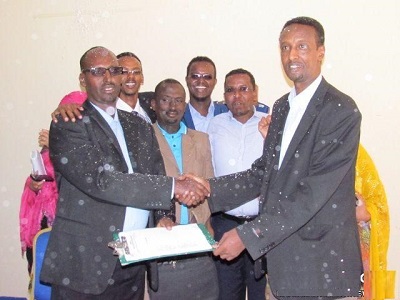 The new office bearers of SOLJA took over the reins on the 7th of January 2015. In a smooth handover function held at Mansoor Hotel, the outgoing officials handed over the office in a ceremony that was graced by the attendance of the Minister of Information, Culture and National GuidanceHon. Abdillahi Mohamed DahirU'kuse, the heads of both opposition parties amongst other personalities from the civil society.
The outgoing chairman Mr. Hassan Mohamed Yusuf outlined the ups and downs during the period of their tenure.
He particularly noted the extent of induction and advancement courses the association held for her members. He underscored the fact that the need of more education in journalism sector of media industry is still direly needed. In other words, whatever help or aid received so far in the educating of journalists is still limited.
Mr. Hassan noted thankfully that NED helped them by eking in by supplementing the administrative costs, especially in office management by paying for our rent in the past two years. He lamented that the NED support had been suspended in July last year following internal wrangles within the association pertaining to the AGM.
He appealed to NED to resume their support given that all was well and conciliation has been made. The new chairman Mr. Mohamoud Abdi Jamaa.k.a.Huuto on his part thanked the outgoing officials hence pledged to work their level best in order to, not only make afloat the vessel of SOLJA, but to take the journey even further.
He particularly thanked them for seeing to it that the 5th AGM was held in ran smoothly.
While promising the injection of new blood to pep up the undertakings of the procedural and organization needs of the institution, Mr. Huuto appealed for the reconciliatory tones to be fortified for the ultimate solidarity and unity of the association.
He not only pledged to delve into and address the grievances expressed at the meeting but promised to go a step further and make SOLJA fledge need-fully.
International award winning veteran journalist who is Waaheen editor Mr. Mahamoud Abdi Jamaa.k.aHuuto was elected the chairman and Hussein Aden Yusuf is the new secretary general.Mr. Huuto is the Winner of the CNN Multichoice African Freepress Award of 2011. The other officials are :-
Deputy chairman- Keyse Ahmed Digale.
Member               – Suleiman Ibrahim Hashi
Member               – Zeinab Mohamed Abdi
Member               – Hayad Mohamed
Member               – Yahye Sheikh Ismail
Member               – Mohamed  Mohamoud Yusuf
Member               – Mawlid Mohamed Shaqale
Member               – MukhtarAbdirahmanMohamoud
Member               – Hashim Sheikh Omar Guud
Member               – Mohamed  SaedAbdillaahi
Member               – Mohamed Ahmed Jama
Member               – Mohamed Abdi HassnBoosh
Member               – Ibrahim Qassim