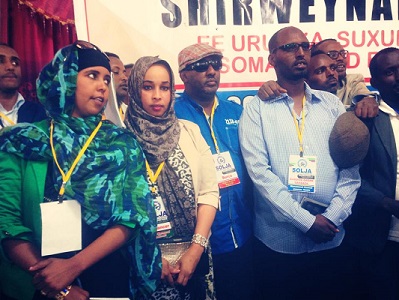 SOJA Holds its 5th Annual General Meeting Successfully
The Fifth Somaliland Journalists Association(SOLJA) Annual General Meeting (AGM) saw the election of new office bearers who would run the largest media society for the next three years.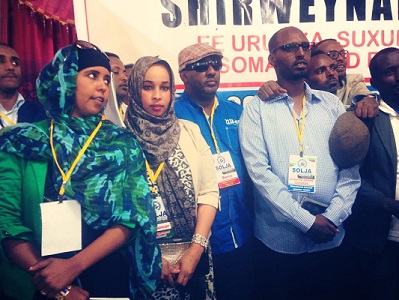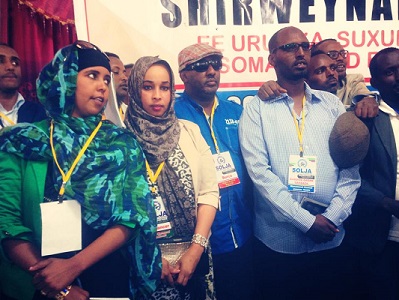 The one day annual general meeting (AGM) held at Ambassador Hotel on the 25th Dec 2014 saw the attendance of 96 members drawn from local assorted media outlets with 10 other attendants from line stake holders e.g. the Academy of Peace, SONSAF, Free Press and associated CBOs.
The AGM which was officially opened by the Information National Guidance Deputy Minister Hon. AbdirashidAbdirahmanAbdiqadirwas also graced by the attendance of , amongst others, the UCID chairman Mr. Feizal Ali Warabe, the  Wadani deputy chairman Mr. Ahmed Mumin Seed and several eminent personalities in the industry.
Most of these sentiments focused on the need of upholding etiquette, righteousness, freedom of expression and, amongst others the inherent need for imperative free and fair election.
The AGM adopted new articles in their regulations with several amendments having been done.
They lastly elected fifteen new officials of the board of directors. It is important to note that this year's AGM created the office of an executive officer, something that was not there before.
International award winning veteran journalist who is Waaheen editor Mr. Mahamoud Abdi Jamaa.k.aHuuto was elected the chairman and Hussein Aden Yusuf Kurdiis the new secretary general.
Mr. Huuto is the Winner of the CNN Multichoice African Freepress Award of 2011.