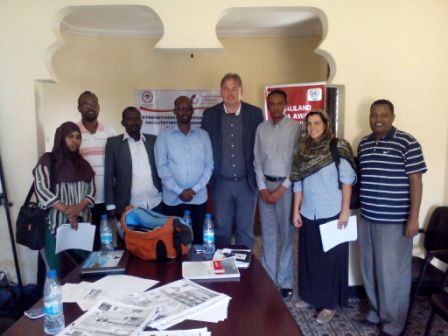 Free Press Unlimited to boost skills of Somaliland journalists
A major international organization dealing in mass communication and its associated rights has pledged to step-up its support in the development of the sector in Somaliland.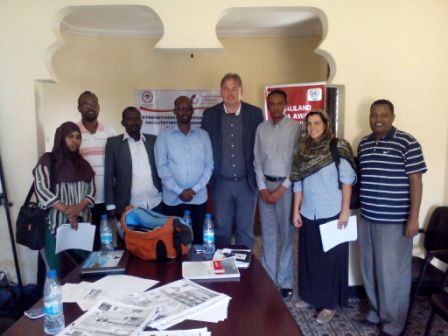 The Somaliland Journalists Association (SOLJA) organization were
graced by the courtesy call paid to their offices by a top director of
the Dutch based media organization, the Free Press Unlimited, Mr. Leon
Willems and a colleague who is its local country representative Mr.
Abdiaziz.
SOLJA chairman Mr. Mohamoud Abdi Jama, alias Huuto, who was flanked by
his secretary general Mr. Hussein Kurdi were at hand to receive the
visitors hence happily heard from them their pledge of supporting the
local association in its endeavours and also in the media industry in
the country at large.
The Free Press Unlimited officials promised to closely work with the
duo in their plans and programmes, given that they are a new board who
has just taken over the helm in the running of SOLJA's affairs.
Mr. Huuto lamented that that the level of apprenticeships of the
country's scribes was quite low and that they needed to be equipped
with better skills.
He said that advance courses especially in modern technology is an
area that the local scribes are totally handicapped.
On his part Hussein Kurdi appealed to the Free Press Unlimited to
likewise shift emphasis from grooming the radio sector to the print,
television and electronic information one in which the bulk of the
correspondents are basically indulged in.
This, he said, is mainly because there were no many radio stations and
that the country has only one major public station.
Mr. Willems who is charged with the policy and planning directorate of
the organization said that he indeed noted the main areas where he
found important to establish liaisons with in the country was the
ministry of information and SOLJA itself. He envisioned the fact that
his organization will be dealing with both institutions on several
fronts.
He pledged that they would support the new SOLJA board in their
programs and that they would largely help in the development of the
skills of the journalists.
Mr. Abdiaziz on his part welcomed the bilateral talks held by the
officials and promised that their organization would do its best to
address the issues that it can.