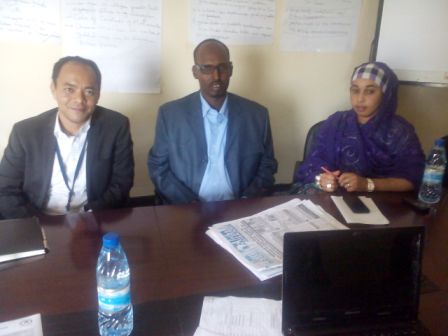 Resident Coordination Advisor Office of the UN Resident Coordinator UNCC visits SOLJA HQ
Resident Coordination Advisor Office of the UN Resident Coordinator UNCC, Mr. Gavin Roy has paid an official visit to the HQ of Somaliland Journalists Association (SOLJA), in short, where he met SOLJA Chairman Mr. Mohamoud Abdi Jama. They discussed ways of enhancing relations between UNCC Office  and SOLJA.
Mr. Gavin Roy has congratulated the new leadership of SOLJA, while he indicated that he's been looking forward to the Organization's Conference, and has been closely following for a while. He also stated that, as an Office, they would double their relations with SOLJA.
Mr. Roy said that their Office would coordinate efforts of seeking further trainings, skills and equipment for Somaliland Journalists, to improve and journalism skills. He also noted that their Office has worked out tremendously with SOLJA's previous administration connecting SOLJA with journalism/media aid agencies.
Mr. Gavin Roy announced that, in this February Somaliland Journalists would be provided a project by UNESCO. The said project, which he said that its particulars was requested and submitted by the previous administration of SOLJA, is about to be implemented soon. He also noted that, regarding the project, they're expecting an early this month.
Meanwhile, Mr. Roy said that he'd receive to the country once again if SOLJA invites Somali Media Support Group (SMSG), which he said he previously linked to SOLJA. He also mentioned that they're eagerly interested in responding all requests forwarded by SOLJA.
Mr. Gavin Roy vowed that their Office is well prepared in assisting Media Rules and Regulations had both SOLJA and Somaliland Government have a unified stance over developing Somaliland's Media Rules and Regulations, on which, he said, the two sides have different, opposing and far perceptions, when it comes to forming a Bill of Law that covers wide variety of media needs, and that defends every party's rights.
SOLJA Chairman Mr. Mohamoud Abdi Jama thanked Mr. Gavin Roy on his visit to SOLJA and his congratulation message to the new administration, as a result of the Organization's 5th Conference, which ended up in a cool and fruitful climate, as well as sorted out the slight differences caused by the conference campaign.
Mr. Mohamoud Abdi Jama demonstrated to Mr. Gavin that UN Agencies are needed to support Somaliland media/press, where they (UN Agencies) normally speak out after the damage is done. He also expressed his concern for training and equipment, necessitated by the huge demand for Somaliland journalists.
SOLJA Chairman stressed the difficulties running an organization like SOLJA without any external help. SOLJA currently has no revenue to operate and maintain its administrative, staffing and premises costs.
The meeting of Mr. Roy and the SOLJA Chairman accompanied by Mr. Mustafe Khayre, from UNCC and Ms Hayad from SOLJA Board took two hours time.