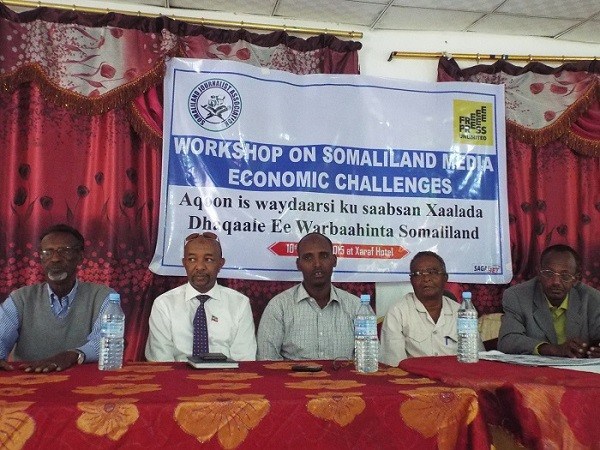 SOLJA, Free Press Hold One- Day Workshop on Media Economic Challenges
Hargeisa, (SOLJA) -Somaliland Journalists Association (SOLJA), the only independent, nonprofit organization that promotes press freedom in Somaliland conducted a one-day workshop on media economic challenges and brown envelope dilemma.
The workshop jointly organized by SOLJA and Free Press, held at Haraf Restaurant in Hargeisa on Tuesday under the theme "overcoming the brown envelope syndrome in daily news coverage" brought together over 40 journalists from the different media fraternities in the country to discuss how best to overcome the economic challenges facing the country's media.
In his welcoming remarks, Mr. Mohamoud Abdi Jama (Huuto), chairman of SOLJA, highlighted the socio-economic challenges facing Somaliland journalists while he noted an embarrassing problem that imprisons good journalism: the brown envelope.
He also stressed on the importance of maintaining a high standard of journalism and adopting correct practices including balance, objectivity, integrity and, most of all, accuracy.
In his opening speech, Mr. Mohamed Elmi Adam, the Director General of Somaliland's Ministry of Information and National Guidance expressed his gratitude towards Somaliland Journalists Association (SOLJA) and Free Press for conducting this valuable workshop.
He talked lengthily about the role of SOLJA in empowering and bringing together Somaliland journalist.
Other notable figures who spoke at the opening of the workshop include former BBC Somali service anchorman, Yonis Ali Nour, veteran journalists Mohamed Ali Weji and Faisal Fadfadle.
The lead facilitator of the workshop Hamse A. Khaire presented an interactive presentation entitled, "Overall Economic Challenges facing Somaliland media". In his presentation, Hamse Khaire noted that Somaliland Media organizations often suffer from lack of resources and poor management.
During his presentation, Hamse also pointed out that Journalism as a profession is faced by a lot of challenges in Somaliland including poor quality of journalism training, absence of effective media act, lack of specialization; as most of journalists work on a diversity of issues, blames for distortion, limited knowledge of development issues and poor salaries.
Veteran journalist and Radio Hargeisa anchorman Sidik Mohamed Burmad also presented an interactive presentation entitled, "The Impact of Brown Envelope on media coverage".
Mr. Burmad shed light on brown envelope dilemma where he stated that the practice of journalists accepting money from news sources, especially politicians, in order to 'facilitate' their stories has become rather common in Somaliland media.
He stressed that some of the journalists defend the habit, saying that media owners subject them to poverty wages and exploitative working conditions, leaving them little choice but to rely on politicians' and other corporate handouts for their daily survival.
Since the incumbent SOLJA leadership came to office six months ago, the organization took big strides in educating and advocating Somaliland journalists. Similarly, the flurry of arrests reduced during this period due to greater interaction and negotiation with authorities.
About SOLJA
Somaliland Journalist Association –SOLJA was established in 2003 with the purpose of "Defend and Promote" the rights of the media in the country.
SOLJA which aspires to ensure that the local Media realizes its capacity in executing its activities within its ethical norms hence exercise freedom of expression in a fearless atmosphere is indebted to its main sponsor the National Endowment for Democracy-NED and others for supporting its Mission of Empowering Somaliland media in its field of expertise hence safeguard its professional rights to Guarantee ethical journalist.