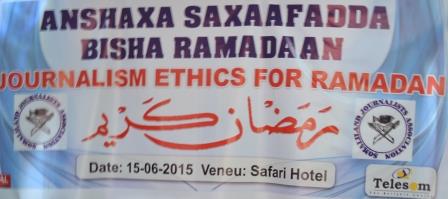 SOMALILAN:Solja Organized for Telesom Sponsored Workshop Jouirnalist Ethics In Ramadan
Local journalists have concurred in the imperatives of proper reporting ethics during the holy month of Ramadan.
The journalists made the commitment during a one day training workshop facilitated by the Somaliland journalists association –SOLJA and sponsored by Telesom Company.
Participants at the training officially opened by Somaliland information minister Abdilahi Ukuse flanked by senior Telesom executives and SOLJA chair Mahmud Abdi Jama "Huto' included journalists from all media houses and their editors/managers.
ethics as a major prerogative of journalism information minister Ukuse urged participants to utilize the coming month of Ramadan as the starting point of their ethical practices.
During the holy month of Ramadan which is expected to commence shortly all able Muslims are required to fast through abstinence of food or drink from Dawn to dusk for 30 days.
the numerous training facilitators who dwelt of various aspects of ethics veteran journalists and former BBC Somali service employee Younis Ali Nuur imparted skills on Ethical reporting to both journalists and Editors.
According to the chairman of SOLJA Mahmud Huto the main objective of the training was to establish ethical practices within the fourth estate in Somaliland while utilizing the holy month of Ramadan as the jumping stone.
In recent past the SOLJA team led by Huto has since taking over earlier in the year undertaken several activities targeting a conducive working environment for local journalists and media houses among them.