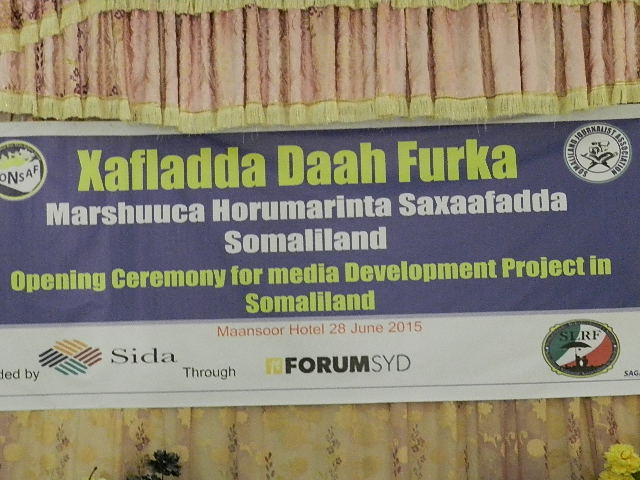 SOLJA and SONSAF Launch 3 years National Media Development Project
The Somaliland Journalist Association "SOLJA" today in a well-attended ceremony launched a 3 year National media development project which aims to enhance the capacities of journalists and media institutions in all regions of Somaliland.
Mr. Mustafe Sacad , a veteran journalist and the chairman of Somaliland civil societies in his opening statement elaborated on the media said, "The idea behind this project was hatched way back in 2010 by SOLJA AND SONSAF but at the time we didn't get the necessary funds  to initiate the project.
"Today with the necessary funds available for project thanks to SIDA, SONSAF is ready to support and work hand in hand with SOLJA in promoting an environment conducive to freedom of expression and media development at the same assisting in the training at least 500 media professionals in key fields of development and also empowering journalists through a supportive policy and regulatory environment and lastly in enhancing national advocacy for the protection of journalists against impunity", Mustafe Saad said.
, the group which advocated and solicited for the funds for the media development project said, "First and foremost I would like to commend both SONSAF and SOLJA for the unrelenting efforts in making this project a realty, secondly I would also like to use this opportunity to urge journalist and members of media fraternity to make use of this project.
Hon Hassan Awale Ay'nan, Somaliland Member of Parliament and the chairman of parliamentary social affairs committee speaking at the function said, "SOLJA as an organization is lucky to have time on its side, in terms of knowhow, highly skilled human resources .Since the new team by Mr. Xuuto took the helm of the organization we have being able to foster good and robust working relation and on behalf of the parliamentary social affairs committee would like to thank him, that been said I pledge to assist SOLJA whenever the need arises.
The MP added, "Regarding the issue of Somaliland (Press Law No: 27/2004), I hope the parliamentary social affairs committee and SOLJA shall cooperate and interact more in the future so as to solve this matter.
Mr. Mahmoud Abdi Jama "xuuto", the chairman of Somaliland Journalist Association "SOLJA" in his opening statement elaborated the achievement of the pasts six months he began by saying, "Our first task, when we took office six months ago was to transform Somaliland Journalist Association-SOLJA, as an organization which advocates for the rights of media and also as resource center for the creation of strong, representative for both state and independent journalists. With the capacity to promote editorial independence and defends the moral and material interests of journalists, including their professional training and further education.
"Today we gather here for the launching of a 3 year National media development project which we hope will benefit at least 500 journalists countrywide. The main objective of this 3 years project is to improve national media practices and standards. This will be achieved through training activities targeting journalists from all media outlets and houses (governmental and non-governmental) this as you're well aware of ,in a country that needs to positively interact and communicate with the rest of the region and the wider world and benefit from access to information in a very dynamic environment", Mr. Mahmoud stated.
The chairman of Somaliland Journalist Association further added, "Currently, a large number of media outlets, including TV, radio and newspapers lack training opportunities and also, the chance to engage with foreign media. This interaction can play a great role in supporting the development of the Media in Somaliland. This project will enable journalists to have the right skills in their professional field and that's what we aim to achieve God willing.
Lastly, the chairman of Somaliland Journalist Association said "I am ready to closely work with you through the facilitation of training and the introduction of a diversity of packages to support journalists and journalism in an inventive and a creative environment that we're confident will generate innovative ideas to move journalism forward while safeguarding the code of ethics for journalism.
Somaliland Deputy minister of information and national guidance Hon Shukri Hariir speaking during the launching ceremony media development project said, "The government of Somaliland is committed forge robust working relations with journalists and members of Somaliland media fraternity through training so as to enhance the credibility of local press through supporting professional media development opportunities, and through the good communication of standards.
Hon Shukri Hariir further urged journalists gathered at venue to refrain from using unethical methods in their reporting of events instead they should utilize the wide range of option available to them to do background research through technical innovation from new approaches in storytelling.