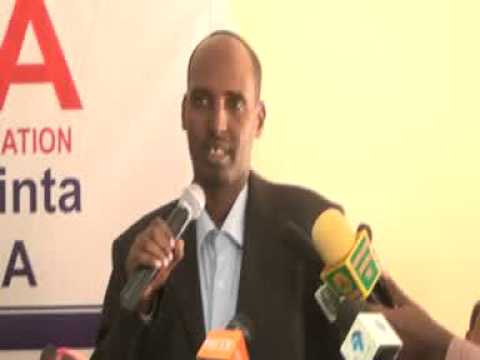 SOLJA Concerned Over Lack of Proper Dissemination of Accurate and Informative Messages on Voters Registration Process
Press Release
Somaliland Journalist Association has denounced the National Electoral Commission for its seeming lack of effort to mount an intensive information campaign on the part of voter's registration process hence lacking the proper measures to safeguarding upcoming elections, and promoting citizen participation.
Mr. Mahmoud Abdi Jama "Xuuto", the chairman of Somaliland Journalist Association in press release stated , "Without involving the media in the electoral process awareness ,the general public risk not to obtain the essential knowledge of how to cast a vote, but also about a participatory process where voters have adequate information about parties, policies, candidates and the election process itself in order to make informed choices.
"Due to lack of active involvement by the local Media in the earlier process as key part in reinforcing transparency in democratic processes led to numerous irregularities which had marred the both the previous voter's registration and electoral processes back then, due to the lack of proper implementations by the organizations charged with the task", he cited .
Electoral Integrity requires a legal and institutional system that encourages fair and equitable elections as well as application of specific measures to protect integrity based on election standards and best practices but this is not the case considering the challenges faced with NEC which apart from the current political impasse on the election timeline and also lack of vital funds needed acquire to essential polling materials and voting materials, this after the EU and other relevant donors withheld the funds after becoming aware of the inappropriate procedures used in awarding of contracts for procurement of voting materials and polling tools.
For instance, it has now become apparent, the procedure used awarding for the Transition Initiatives for Stabilization (TIS) contract which is funded by USAID and implemented by IOM to two local NGOs was flawed.
"In partnership with the National Election Commission (NEC) and various international actors, TIS purpose was to implement a voter education initiative aimed at building awareness and educating voters about the forthcoming voter registration process in Somaliland. The aim of this project is to use various forms of outreach, communications, and media to disseminate accurate and informative messages for the upcoming voter registration process in all regions of Somaliland targeting various community groups but it seems Awdal and Sool regions have being left out of the project for no apparent reason.
By acknowledging the role of the Somaliland media as a public educator, we can overcome current challenges the facing the upcoming voter's registration process through negotiation with NEC and NGOs for broadcast of educational material to voters with the aim of educating them on the process.
Furthermore, the EU and the other various donors funding the electoral process should be aware the media acts as a crucial watchdog to in any democratic elections, safeguarding the transparency of the process. Indeed, a democratic election with no media freedom, or stifled media freedom, would be a contradiction in terms.