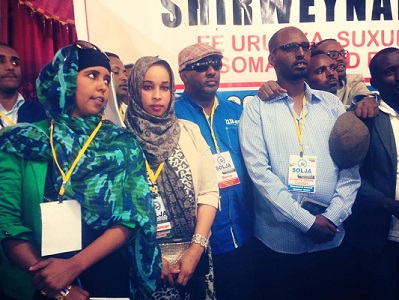 Fourth Estate and Judiciary Commit to Good Practices Per-See
HASRGEISA (SOLJA) – Courts in Somaliland shall no longer proscribe media houses in the country until charges proffered against them if any are heard and determined.
This was informed by the Chief Justice Prof Aden Haji Ali after a meeting with officials from the Somaliland Journalists association-Solja in his Hargeisa chambers.
According to a statement released by Solja (below) the meeting in which both sides briefed each other candidly ensued with an agreement to work in concert as a prelude to ensuring journalists are availed their rights as they proactive under established laws.
Adding that The very fruitful meeting between Solja and the Somaliland chief justice Prof Aden Haji Ali took place in Hargeisa on 1st Sept 2015.
"Discussion that were held candidly revolved around means in which the judiciary and fourth estate in Somaliland shall work together under established law in order to protect the rights of journalists as well as media Houses as pertains to cases involving members of Solja submitted to the courts" .
While addressing the scribes' leaders the chief justice who urged upon establishment if mechanisms to solve some cases out of court revealed his officers are currently handling two cases in which complaints are the Maroodi-jeeh (Hargeisa) regional court of appeal judge and a merchant respectively
"I have instructed proper investigations that shall result in court proceedings where the accused journalists shall be given ample opportunity to defend themselves" said the CJ
At the same time Prof Aden said that his chambers were prepared to work closely with Solja thence create mechanisms for out-of-court arbitration and subsequent settlement of some cases involving local journalist.
Additional the Chief Justice who pledged to ensure the fourth estate is accorded all right under law during his watch also urged Solja members to operate within the law thus make his work easy.
Reiterating that no media house shall be proscribed until charges against are determined in court the chief justice and Solja conclude discussions with an undertaking to conduct regular meetings and workshops thence bring each to speed on norms in practice internationally as pertains to relations between the two.
The Solja delegation to the CJ chambers that included its disciplinary committee and led by Chairman Mahmud Abdi Jama 'Huto' took the opportunity to urge the Chief Justice upon the importance of ensuring journalists arraigned in court for whatever crimes are accorded a fair and impartial hearing.