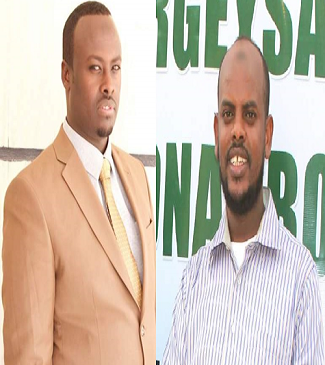 SOLJA Condemns the Arrest of HUBSAD Reporters
 Hargeisa(SOLJA) Somaliland Journalists Association Strongly condemned what it Called unlawful and unconstitutional arrest of two reporters named, Abdirashid Nur Wa'ays and Saed Khadar Abdilahi who have been held at CID Head Quarters in Hargeisa on Monday.
SOLJA leadership Mohamud Abdi Jama (Huto), the Chairman of the bar accompanied by his Deputy Chairman Keyse Ahmed Digaale and secretary General Hussein Kurdi Told the Media that the Office of Prosecutor General didn't submit any plaint of litigation to the court.
"they are illegally detained at CID as no litigation against them was submitted to the competent court. Therefore, we are calling for the government to release of the arrested Journalists," Said Chairman of SOLJA,
On the other side, the Office of Somaliland Prosecutor General defended the legality of the apprehensions of the Journalists, as he accused the reporters of issuing illegally and unregistered Newspaper Called (Hubsad), as the country's prosecution didn't give any license for its publication.
"the two reporters came here visited to my office. They told me that they want to register and get the license as they aimed to establishing a newspaper Called HUBSAD. This Name has already been registered from the registration office on 23 August 2010. Therefore, we have assured that they are not the Editors and owners of this Journal as such they have taken illegal action  as they published this paper without having any legal and Valid Document showing their Ownership to it," Prosecutor General.
Mr. Hassan added that he gave warning to the reporters before publishing the paper. "I have given a warning to reporters. I told them they cannot publish the Journal, as they are not the Owners and Editors of the paper, and in the meantime, they had no evidence showing otherwise; these reporters may face pecuniary fine and arrest as well".
Mr Hassan has likewise noted that this action is a preventive measure and a one that will generally protect the ethics and the Professionalism of country's mass media Communication
source – The Republican