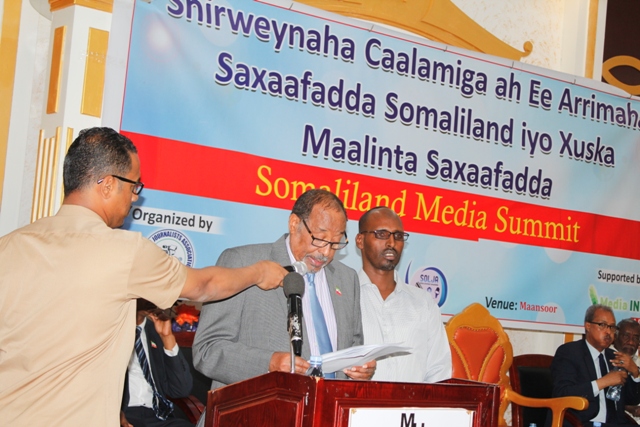 SOMALILAND MEDIA SUMMIT
Brief Report
 Date of Summit:08-09 November, 2016          Venue: Maansoor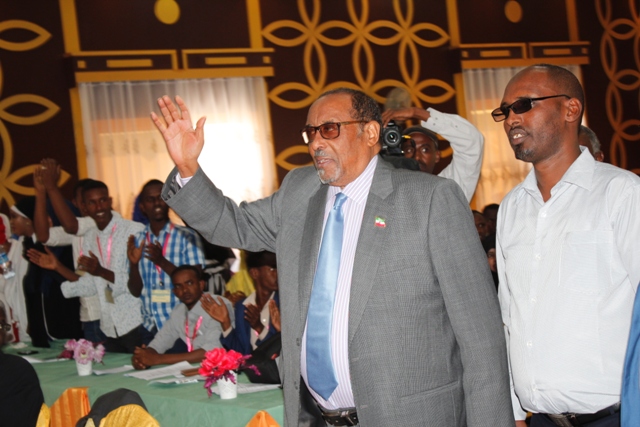 President Ahmed Siilanyo welcoming in the Summit scene: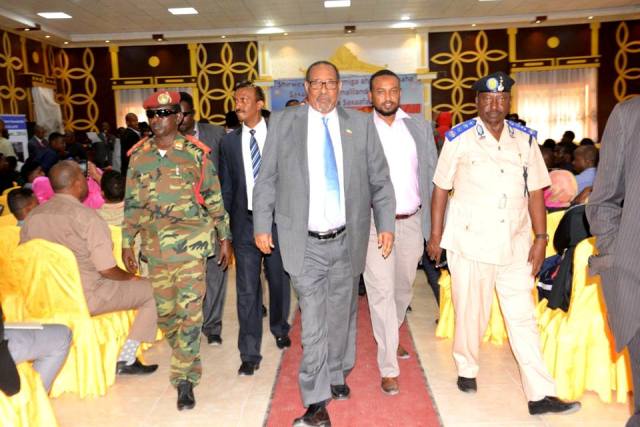 Executive Summary of first Somaliland Media Summit
SOLJA conducted the first Somaliland Media Summit (SMS) participated by journalists from various media houses and from the six regions of Somaliland. The participants were at least 150 practicing journalists, senior journalists, media workers and state owned broadcasting workers.
This was funded by FREE PRESS UNLIMITED international organization through Media Ink which is media organization based in Hargeisa.
This Summit has hosted the largest number of participants and the highest number of delegates forever arranged by a media organizations and it was a milestone for SOLJA Leaders.
The objectives of the media summit were:
Objectives
To empower freedom of expression and media freedom, through bringing together the licensed journalist and present their role of Development and challenges for the Somaliland progress.
Encourage and build a sense of cooperation and feeling with journalists and the Media sector in Somaliland.
To reward and encourage the Journalists who made social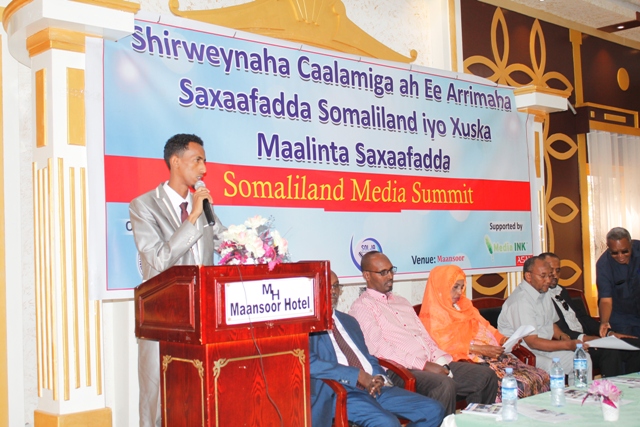 The delegates that took part official opening of  the Somaliland Media Summit including the Deputy Minister of Information Hon Shukri Harir Ismail, the Leader of Waddani Party Hon Hersi Ali H Hassan, Spokesperson of Kulmiye Party, Senior Journalists, The Executive Director of SOLJA Yahye Mohamed Abdi and the Chairman of SOLJA Mohamud Abdi Jama.
There were well-arranged activities in these two days not only limited to:
2 Pannell discussions on the Media challenges in Somaliland and the Unity of Journalists respectively
Speeches and Presentations by senior journalists and Government officials on the Development of Media
Award Ceremony for the top winners of the National Media Contest named after Ahmed Hassan Cawke , the well-known Somali senior journalist (CAWKE MEDIA AWARD ) hold by SOLJA during Oct
Inauguration of Somaliland Media day on 09 November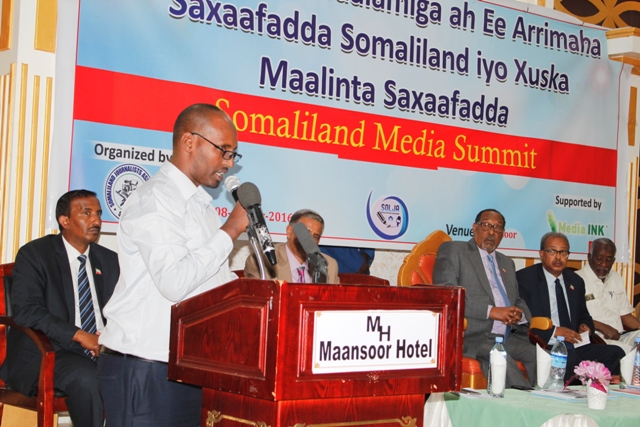 KEY POINTS
 Mohamud A Jama Huto, SOLJA Chairman
Congratulated FREE PRESS UNLIMITED / Media Ink for accepting their request and funding this event
Congratulated ASI's role in CoC revision and their training on Somaliland journalists on Election Reporting
Congratulated International Media Support -IMS for partnership in Somaliland Media strengthening project
Appealed for the President Siilaanyo to provide them financial support to set up a Journalism School where they can train journalists
Responded to Free press report on the status of Somaliland media which he said was 'too much' exaggerated
Asked the president and his team to support them in review the Somaliland's media law
SOLJA increased their membership and included more from Awdal and Sool regions
SOLJA trained more than 500 journalists throughout Somaliland in a two year's time
Praised the role of MoInfo on their nation-wide campaigns to extend helping hand to those people affected by drought.
Complained about the intervention of Planning Minister for not stopping SDF training aimed at 90 journalists.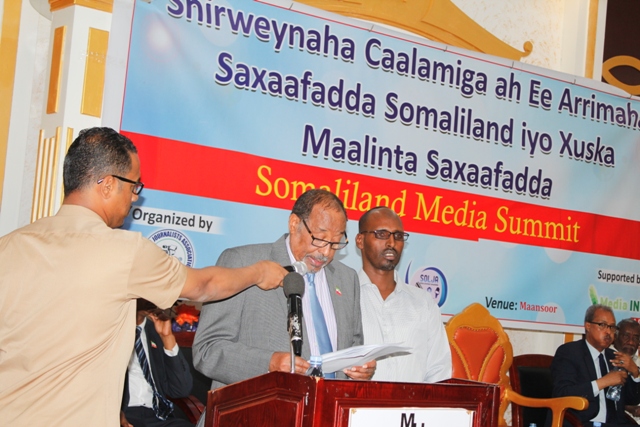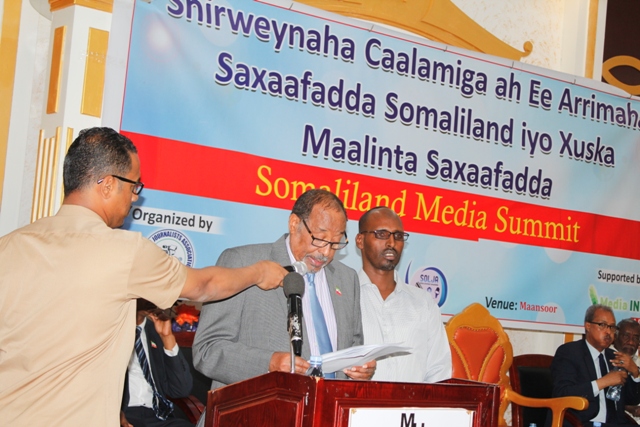 Excellent Quotes from President's speech
"Somaliland media acts as a watchdog of my government. I'm therefore against any harassment of the free press. This is what I have been advocating for many years and I personally stand for."
"I consider that the free media is the only mirror that the world uses to judge our remarkable democratic progress."
"The journalists cannot be detained or harassed without proper legal procedures. I advise the security and regional authorities to give a due respect to the constitutional rights of the journalists and scrutinize the freedom of expressions."
"I acknowledge that Somaliland young journalists have played their significant role in promoting our national interests and soldier on despite the lack of tangible financial support."
"I welcome your true criticisms and you constructive ideas for my government. I believe that is one of your basic rights to exercise… I have the tolerance to listen to you and work on the areas the need more perfection. But I caution you not to spread rumors and baseless speculations which are of no help to us all."
Presidents promises for SOLJA and Somaliland Media
Commended the remarkable job done by SOLJA in promoting Somaliland's positive image outside and becoming a voice for the voiceless
Promised to open up a Journalism school before his term expires which is due on March 2017
Ensured that the media law will passed by the parliament and SOLJA comment will be incorporated into it again
Urged the Somaliland journalists to put their nation's interests above anything else, respect the media ethics and maintain their neutral positions on issues that concern elections, security and development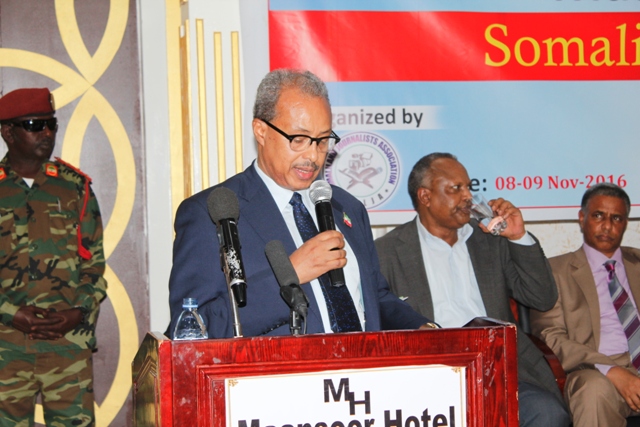 Sahardid Adani, Minister of Information and National Guidance
Congratulates and appreciates the role of SOLJA on hosting this summit and their role on journalist capacity building
MoInfo has 756 permanent staff who works for the ministry, Radio Hargeisa, SLNTV, SNNA and the Horn Tribune
Established the first Somaliland National News Agency and SLNTV is now broadcasted live worldwide.
Signed MoU with Thaicom who provided a technical support to SLNTV
Plans to have a National theatre and a number of studios (particularly designed to interview the high officials including the president)
Agreed with the Ethiopian MoInfo to sign an MoU in Hargeisa this month which will primarily focus upon the training of Somaliland journalists and renovating the studios of Radio Hargeisa and SLNTV
Maps to set up six radio transmitters in all across Somaliland regions
Commended the efforts made by WIJA so far and promised them continue their moral and material support
The output Somaliland Media Summit summit:
The Somaliland Media challenges are collectively addressed
The Somaliland Media opportunities are also pointed out
Vivid Solutions and strategies are suggested with response to the arising Somaliland media challenges
An interesting 20 minutes documentary film arranged by SOLJA was impressive and participants familiarity Media history in Somaliland and the current media landscape is raised
The journalists from various regions introduced each other and promised to work together by keeping in touch
The winners of the Cawke Media Award was provided a huge awards and certificates
The president of Somaliland promised he will work in close with SOLJA in the media development sector both the professional capacity building through establishing Somaliland Media Center and helping SOLJA in terms of Reviewing the Press law.
Some Photos of the Summit: