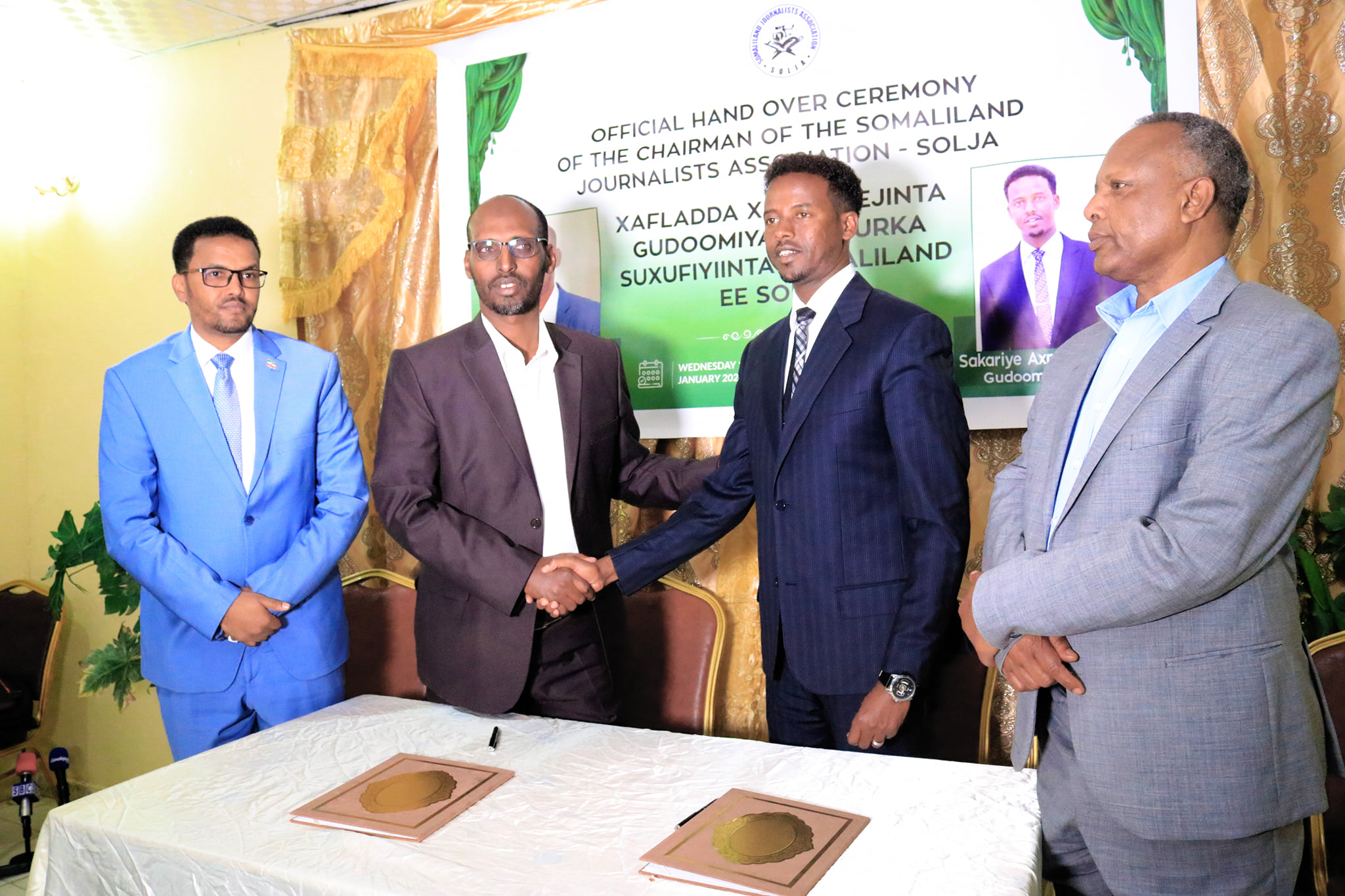 SOLJA'S NEW CHAIRMAN & LEADERSHIP TAKES OFFICE OFFICIALLY.
The newly elected leadership of the Somaliland Journalists Association (SOLJA) officially took office on 13th Jan 2021. In a ceremony held in Hargeisa attended by the Deputy Minister of Information, the Presidential Adviser on Electoral Affairs, Somaliland journalists and Somaliland media stakeholders, the new SOLJA Chairman Zakariye Ahmed Muhumed took office on behalf of the 15 members of the organization's leadership Board of Directors, he took over from former SOLJA Chairman Mohamud Abdi Jama (Huto) on behalf of the outgoing Executive Committee.
First of all, the Acting Executive Director of SOLJA Mr. Ilyas Abdillahi Abdirahman described the various stages the organization has gone through: "SOLJA was established in February 2003, and 13 January, 2021 the last Chairman will take office. For the past three years, SOLJA has been working to improve the professionalism of journalists, during which 1,865 journalists attended and benefited from the meetings and trainings held by the organization. "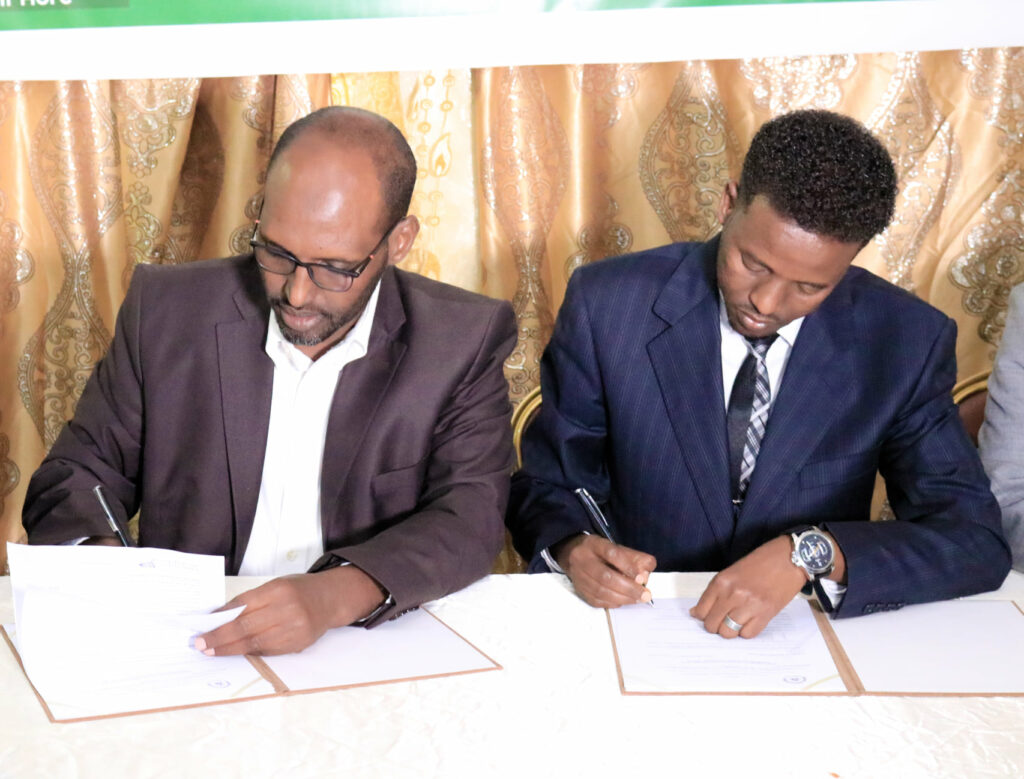 Speaking on behalf of the SOLJA Executive Committee, Mohamed Farah Coomade said, "I acknowledge that we have a great task ahead of us, a great responsibility has been placed on our shoulders." Adviser to the President of Somaliland on Electoral Affairs Abdillahi Mohamed Dahir (Cukuse) also addressed the gathering, saying goodbye to the outgoing leadership and welcoming the new leadership, saying, "The media is made up of colors of execution), I pray that Allah does not clash with its different colors, Why? Guraase (SOLJA Secretary) grew up in the Independent Media, Zakaria (SOLJA Chairman) grew up in the State Media, both of which I work for in a small State that accepts less law. " Former Journalist Mohamud Abdi Jama (Huto) there said: "He was in those years leadership they strive to establish operating office which they increased the budget into the organization to respond to the many needs of the media." Huto also said, "Our leadership has worked hard to find land for the Journalists' Union SOLJA, so today we are handing over two plots of land, one made by our predecessors in Berbera and the land documents in Hargeisa donated to SOLJA by the government, which we want the new leadership to take from that and make of the vision for having a building possible. The organization has successfully provided 160 journalists with university degrees, 80 degrees and 80 diplomas.
The new chairman of SOLJA, Zakariye Ahmed Muhumed, who also addressed the gathering, said, "Today we are at a crossroads where the organization can continue its work for the Somaliland media. First of all, I pray to God and the Executive Committee to keep this responsibility and fulfill the best. "
In closure, Abdinasir Omar Jaamac, Somaliland's Deputy Minister of Information, spoke and handed over the reins, saying, "We promise to work with you on the principles we have adopted as a government, you and other existing organizations.
---
SOMALI VERSION
Gudoomiyaha iyo Hoggaanka Cusub Ee Ururka SOLJA Oo Xilka La Wareegay.
Hoggaanka cusub ee Ururka Suxufiyiinta Somaliland ee SOLJA dhawaan loo doortay, ayaa Shalay si rasmiya xilka ula wareegay. Munaasibad lagu qabtay Magaalada Hargeysa  isla-markaana ay ka qayb-galeen Wasiir ku-xigeenka Wasaaradda Warfaafinta, La-taliyaha Madaxweynaha ee Arrimaha Doorashooyinka, Suxufiyiinta Somaliland badankooda iyo Daneeyayaasha Saxaafadda Somaliland, ayaa waxa xilka kula kala wareegay Guddoomiyaha cusub ee SOLJA Sakariye Axmed Muxumed oo matalaya 15-ka xubnood ee Hoggaanka ururka, waxaanu kala wareegay Guddoomiyihii hore ee SOLJA Maxamuud Cabdi Jaamac (Xuuto) oo matalaya Guddigii hore ee fulinta ee wakhtigoodu dhamaaday.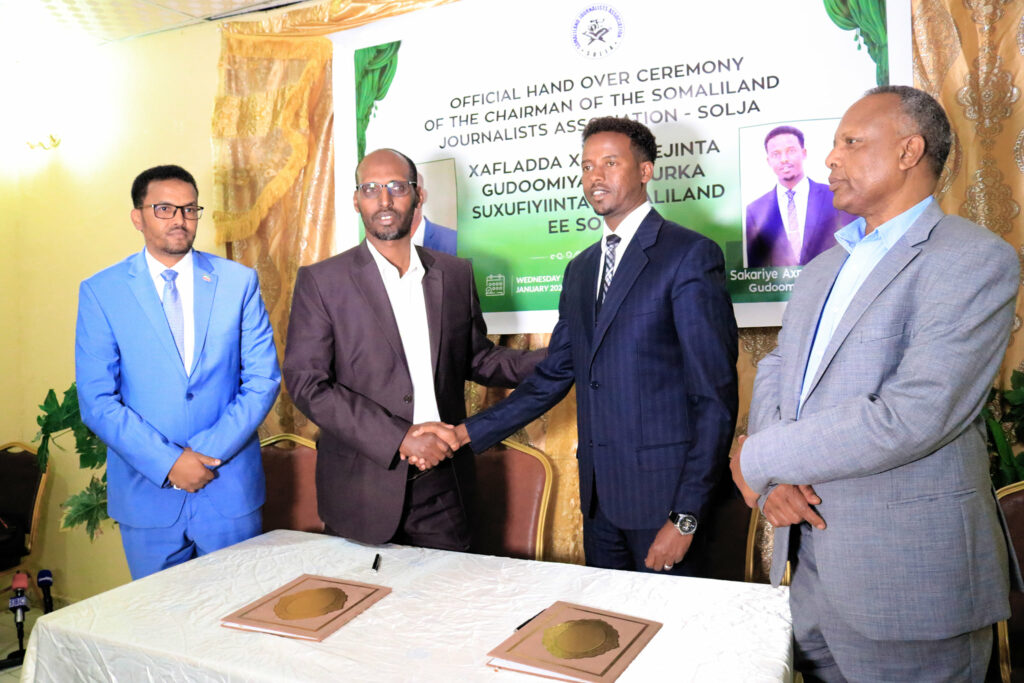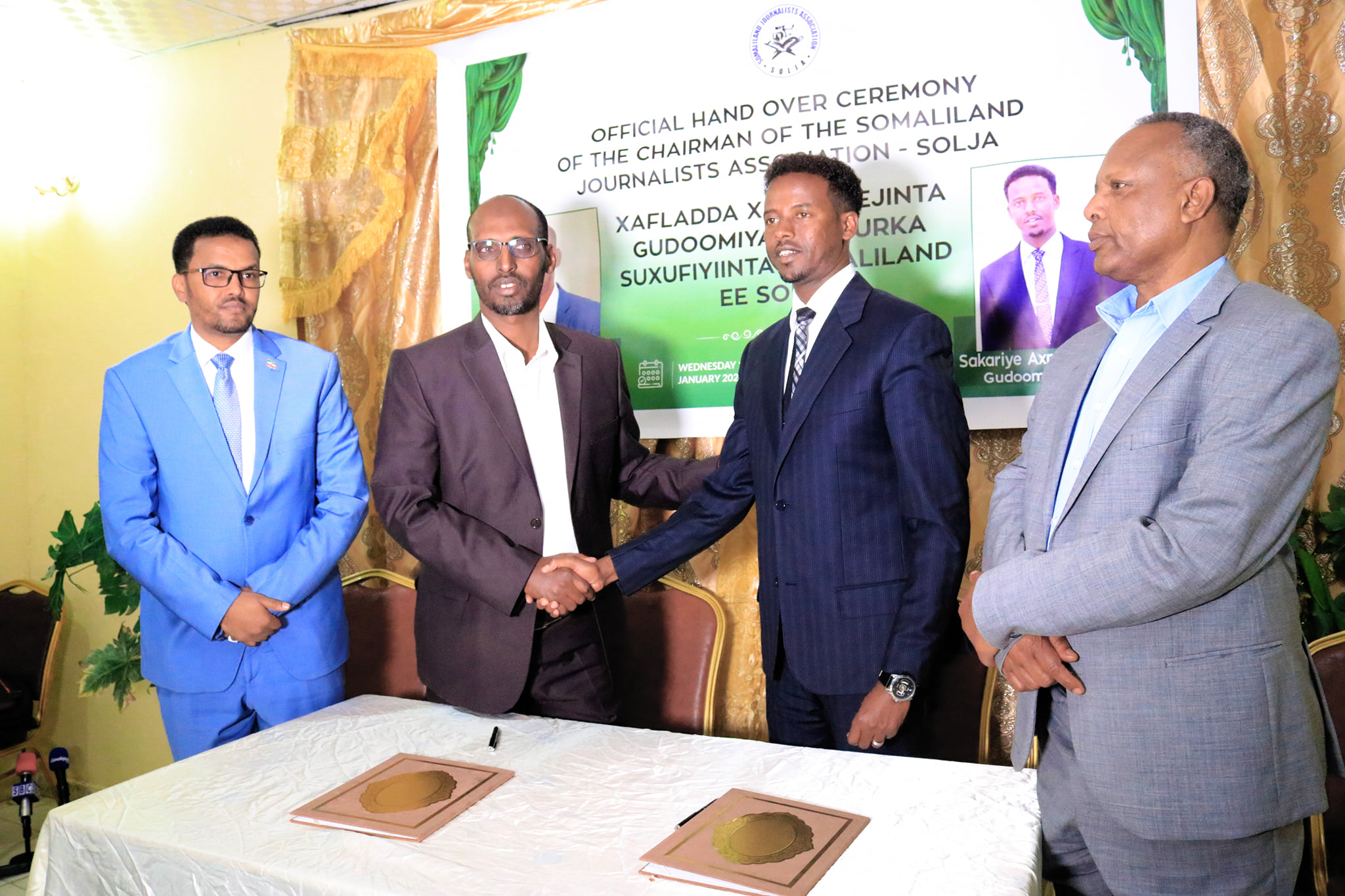 Ugu horrayn, waxa halkaa ka hadlay ku-simaha Agaasimaha fulinta ee SOLJA Mr. Ilyaas Cabdillaahi Cabdiraxmaan waxaanu ka warramay marxaladihii kala duwanaa ee uu ururku soo maray, waxaanu yidhi  "Ururka SOLJA waxa la aasaasay bishii February 2003, Maantana 13 January, 2021 waxa xilka la wareegaya Guddoomiyihii ugu dambeeyay. Saddexdii sanadood ee u dambeeyay SOLJA wuxuu ka shaqaynayey in Xirfadda Suxufiyiinta kor loo qaado, muddadaa kulamadii iyo Tababbaradii uu ururku qabanayey waxa ka qayb-galay oo ka faa'idaystay 1,865 Suxufi.."
Maxamed Faarax Coomaade oo ku hadlayey Magaca Guddiga fulinta ee SOLJA oo halkaa ka hadlay ayaa yidhi "Waxaan qirayaa in hawl culus inoo taallo, masuuliyad weyn oo culus dhabarka la inoo saaray."
La Taliyaha Madaxweynaha Somaliland ee Arrimaha doorashooyinka Cabdillaahi Maxamed Daahir (Cukuse) oo isaguna halkaa ka hadlay ayaa sii sagootiyey hoggaanka uu muddo-xileedkoodu dhamaaday ee xilka wareejiyey, hoggaanka cusubna soo dhaweeyay, waxaanu yidhi "Saxaafaddu midabbadii ay lahayd bay ka kooban yihiin (Guddiga cusub ee fulintu), waxaan Ilaahay haka dhigo inaan midabbadeedaa kala duwan isku dhicin, Waayo? Guraase (Xoghayaha SOLJA) wuxuu ku barbaaray Saxaafad Madax-banaan, Sakariye (Guddoomiyaha SOLJA) wuxuu ku barbaaray Saxaafadda Dawladda, labadaba Anigaa ka soo shaqeeyoo ta Dawladdaa yar deggan oo sharciga yar aqbasha.."
Guddoomiyihii hore ee SOLJA Maxamuud Cabdi Jaamac (Xuuto) oo halkaa ka hadlay ayaa yidhi "Hoggaankii lixdaa sanadood joogay wuxuu u dhabar adaygay inuu labadaa boqol ee kun ee dollar ee soo gala ururka wax kaga qabto intii badnayd baahiyihii Saxaafadda."
Xuuto wuxuu sheegay oo kale "Hoggaankayagii waxaanu ku dedaalnay sidii ururka Suxufiyiinta aanu dhul ugu heli lahayn, sidaasi darteed Maanta waxaanu halkan ku wareejin doonaa laba Dhul oo mid hoggaankii naga horreeyay uu sameeyay oo Berbera ku yaalla iyo dhukumantigii Dhul Hargeysa ku yaalla oo Xukuumaddu siisay SOLJA, kaasi oo la doonayo in hoggaanka cusub ay ka dhabeeyaan, oo weliba dhismihii laga dhisi lahaa ay suurto-geliyaan. Ururku wuxuu ku guulaystay inuu 160 Suxufi siiyo aqoon heer Jaamacadeed ah, 80 Degree ah iyo 80 Diploma ah.."
Guddoomiyaha cusub ee SOLJA, Sakariye Axmed Muxumed oo isaguna halkaa ka hadlay ayaa yidhi  "Maanta waxaynu taaganahay meel aynu ka sii amba-qaadi karno hawsha uu ururku u hayo Warbaahinta Somaliland. Marka hore waxaanu Ilaahay ka baryaynayaa Aniga iyo Guddiga fulinta inuu nagu asturo Masuuliyaddaas culayskeeda laga sheekeeyay."
Gebogabadii waxa halkaa ka hadlay isla-markaana xilka u kala wareejiyey Wasiir ku-xigeenka Wasaaradda Warfaafinta Somaliland Cabdinaasir Cumar, waxaanu yidhi  "Waxaanu ballan-qaadaynaa inaanu idinkala shaqayno Mabda'aa Dawlad ahaan aynu qaadanay, idinka iyo ururrada kale ee jira."