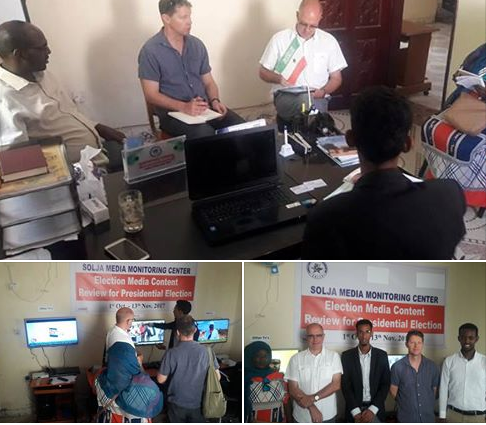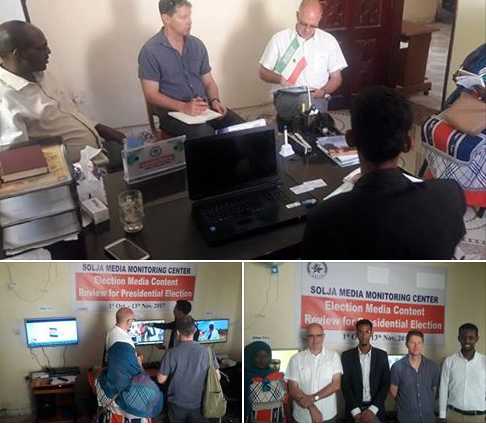 Today on 27/10/2017 SOLJA had an impressive meeting with the International Observers for Presidential Election team consisting of Michael-Walls-Chief Observer, Conrad-Heine- Media& Communications Coordinator and Susan.
We have discussed about the International Observation mission, briefing from both sides on role play of elections and creating close cooperation between SOLJA and the Election observation team.
Together we ensure Free and Fair Elections!
Ururka SOLJA iyo masuuliyiinta Goob-joogayaasha Caalamiga ah oo kulan yeeshay
Hargeysa(Waaheen) Ururka suxufiyiinta Somaliland ayaa shalay xarunta ururka kula kulmay madaxda hormoodka u ah Goob-joogayaasha Caalamiga ah, kuwaas oo u kuurgalayey qaabka ay Saxaafadda Somaliland uga shaqaynayso Doorashada Madaxtooyadda.
Goob-joogayaasha Caalamiga ah ayaa kormeeray qaybta la socodka Saxaafadda xilliga Doorashada oo ay hay'adda COFFEE, ka samaysay xarunta guud ee SOLJA, oo si heersare ah loo qalabeeyey.
Kulankaas kadib waxa ay madaxda Goob-joogayaasha Caalamiga ah iyo madaxda Ururka SOLJA, yeesheen kulan ay ku lafagureen qaabka ay u wadashaqayn doonaan muddada Doorashada lagu jiro iyo kadib ba.
Qoraal kooban oo uu ururka ka soo saaray kulankaas ayaa u dhignaa sidan:-
Maanta: 24/10/2017-Waxa maanta kulan qiimo badan xafiiska Guud ee SOLJA kula yeelanay madaxda Goobjoogayaasha Caalamiga ah ee Doorashodada Madaxweyaha 2017. Waxa hogamaniyay:
Michael-Walls-Madaxa Goobjoogayaasha, Conrad-Heine- Iskuduwaha Warbaahinta iyo isgaadhsiinta, iyo Susan oo ah xubin.
Kulankan ayaan kaga wada hadlaynay sidii SOLJA ay ula shaqayn lahayd in Goobjoogayaashu xidhiidh dhaw la yeeshan saxaafada Somaliland qaybaheeda kala duwan. Waxa maalmaha soo socda SOLJA Iyo masuuliyiinta Goobjoogayaasha Caalamiga ahi wada qaban-doonaan hawlo u khaas ah saxaafada iyo suxuyiinta Somaliland si ay wax badan uga ogaadaan hawlaha ay wadaan iyo sida ay u qorshaysantahay guud ahaanba nidaamka goobjoogida caalamiga ah( Election observation Mission)